Have you ever thought of having an adventure with your kids while in the United States? An adventurous trip for kids is a dream to most families. The United States has a lot of fun filled places for Kids adventures apart from the world renowned Disneyland. Here are some of the best Adventure trips your Kids can enjoy while in the United States.
1. Four Seasons Resort Scottsdale's Adventures, Arizona.
For the kids outdoor experiences Four Seasons Resort Scottsdale has partnered with Arizona Outback Adventures which will make your kid get an adventure worth remembering in their lives. The adventures varies anything from hiking to mountain climbing .The kids even have an adaptation of the adults kayak Tour which has safety orientation and paddling instructions making it safer for your kid while having this awesome adventure. There is also a free "Kids for All seasons" program which features live animals and teaches kids about the desert environment and habitat. The program specializes in taking tourists and kids into mountains, canyons and south-west's desert. This is a great adventure trip for your kids while in the United States.
2. Historic Parks of the American West, Las Vegas.
This adventure is priceless sources of memories to you and your kids while having a trip in the United States. This is a two week adventure trip for you and your kids or your kids alone .Through different National Parks. You and your kids will get to behold majestic colors, cultures, wildlife and forms as you explore the United States legendary south west. The adventure includes hiking Zion, the Grand Canyon and visiting the archaeological ruins of Mesa Verde. You will get to feel the intriguing drive monument valley and witness ancient treasures including the Escalante staircase and sandstone arches. The adventures are not too hard for kids making them have a memorable trip in the United States. The trip itinerary is from Las Vegas to Zion National Park, Arches National Park, Canyon lands National Park and four other national parks in twelve days of fun filled adventure.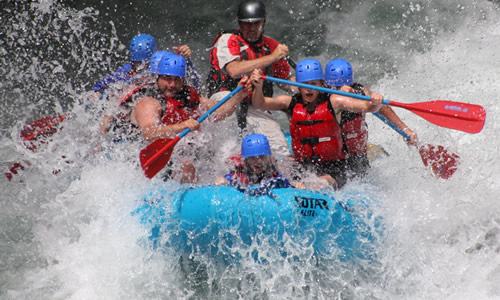 3. Whitewater Rafting Trip, Oregon.
This is adventure for you and your kids on Oregon's Rogue River; this is one of the warmest waterways in North America. The adventure includes a lot of water fights and swimming. The main attraction is making your way down the river in a inflatable kayak or romping raft. After the long fun filled trip the Rogue Wilderness Adventures responsible for the adventurous tour prepares delicious fares and sets a camp on the riverside. You can as well decide to sleep outdoors and watch the dazzling stars at night or get to stay in Paradise Lodge. The best part of the trip is there is no cell-phone service making your teen to have no option but pay attention to nature and the adventure. This is an adventure which will be worth remembering for your kids and friends.
4. Kensington Tours Adventures, Hawaii.
This is a nine day family adventure trip for kids and families .You can start the trip by relaxing on Waikiki, a great place to learn how to surf then get to a greater tour to Oahu Island where you can see the Japanese -style Byodo-In Temple, North shore's raging breaks and the Dole pineapple plantation where you kids can get to walk through maze. There is a rain forest hike, whale watching, a visit to sea turtle nesting ground will make your kids have an exciting experience while in Maui. Having this adventurous trip will be every minute worth remembering.
An ESTA Visa, Electronic System for Travel Authorization is needed or one to travel to the United states under the Visa Waiver Group. One is subjected to enhanced security requirements and must apply for authorization then pay the service fee for the process to be done. It can easily be accessed and applied online.