Wedding is arguably the most important event in an individual's life and is the beginning of a new period of life. Because a wedding celebration can last for a couple of days, brides tend to ignore everything with the sole focus on their beauty. The tiredness and possible lack of energy are easily forgotten. Hence, wedding shoes need to be wonderful while simultaneously being comfortable. Mentioned below are five factors that you need to consider before purchasing a pair of comfortable and dazzling shoes.
Factor 1: Material
When it comes to shoes, leather is the most popular raw material. Leather shoes fit a majority of occasions and are relatively easy to match with your wedding outfit. You can use these shoes even after your marriage on choice occasions. The ideal leather shoes should be breathable and soft. Otherwise, it will cause unnecessary sweating of the feet and stuffiness, making them uncomfortable. Shoe soles need to be thick enough to prevent tiring of feet. In addition, you can opt for anti-skidding ones.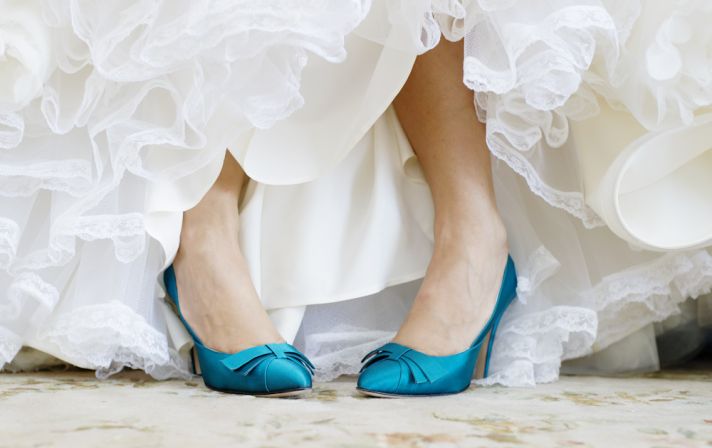 Factor 2: Style
The style of the wedding shoe should match the customised wedding dress. Mules and roundheads are the most common styles of wedding shoes. Such shoes are the perfect accessory for wedding dresses as well as evening gowns. High-strap shoes are extremely stylish because it enhances your leg length. These shoes are an ideal match for short summer wedding gowns. Shoes equipped with bling go well with intricately-designed wedding dresses to demonstrate luxury. Besides crystal, shoes can be embellished with metal, ribbons, and even pearls. Never opt for shoes with plastic or brass embellishment because they look "too cheap" for an event as important as a wedding.
Factor 3: Height
Beauty should not be the sole concern of brides. You need to opt for shoes with the right height according to your everyday habit of wearing shoes. Wearing too high heels can make your legs appear thinner and slimmer. However, you should skip this type because it will tire you out. You may even sprain your ankle or trip and fall down, causing unnecessary embarrassment. The height needs to be perfect: neither too thin nor too high.
Factor 4: Match
Wedding dresses are primarily white and the gowns that brides change are predominantly light in colour. Therefore, you need to opt for shoes that are white, pink, beige, or silver as the dominant colour. These are the best colours for shoes to be worn on your wedding day. You can never go wrong with these colours and most importantly, they are extremely versatile. Based on your wedding gown, brides can choose from a variety of colours, such as light yellow, violet purple, coral, light green, or golden.
Factor 5: Adaptation Period
When you purchase shoes, especially leather shoes, they may cause discomfort at the beginning. Hence, it is wise to wear these shoes for half an hour each day after purchasing and before your all-important wedding day.
Now that you know the factors that need to be considered while purchasing wedding shoes, you cannot go wrong in selecting the most ideal pair that scores high on style, comfort as well as budget.