Working from home is an attractive and increasingly popular option that allows people the flexibility to make money on their own schedule. Though many legitimate work-from-home opportunities exist, scammers are always creating new websites and posts promising people fast, big money for barely any work. If you're looking for an at-home work opportunity, how can you tell what's real and what isn't?
Use Job Search Websites
Legitimate companies looking for telecommuters will post job opportunities on job websites like Monster or LinkedIn. They are extremely unlikely to post an ad on Facebook or Google. Think about it from an employer's viewpoint: sifting through job applications is time-consuming, so they want candidates who are serious about the job opportunity, not just anyone who happens to come across the ad.
Check for Scam Complaints
Several websites exist that will help you determine whether a company is legitimate or not. The Better Business Bureau will mark companies as "unsatisfactory" if they don't meet certain criteria, and they let you know if the company won't give them more information. Check the Federal Trade Commission, too; they have a list of "scam alerts" and a page devoted to explaining different types of work-from-home scams.
Do Some Simple Googling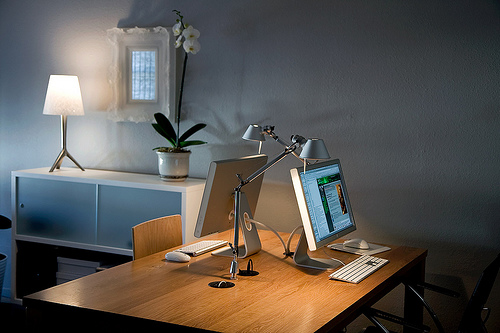 Check out the company offering the at-home work. Don't just glance at their website. See if you can find a phone number, an address that isn't a P.O. box, and at least some mention of a few current employees. At the very least, they should list their owner or CEO on the website somewhere. Call the phone number to see if anyone answers. Look for employee reviews on sites like Glassdoor, or customer reviews on Google, Yelp, or Facebook.
Look at Social Media Presence
Some scammers spend time making their web presence look legitimate. What's harder to do, though, is to pretend that you have clients, followers, and current employees. That's why checking websites like Twitter, Facebook, and LinkedIn is so important. Take Amway's LinkedIn page, for example. Many legitimate LinkedIn users list Amway as an employer, and the page has consistent industry-relevant updates. A "company" run by one or two scammers won't have such a robust social media presence.
Don't Fall for "Easy Money"
Scam companies love to promise that you can make "more than X amount of money a week" from home. It's easy, they say, but that's about all they say. Does the job posting give you details about what you'll be doing, what will be expected of you, and how you'll get paid? If they're promising a ridiculous amount of money for a small amount of work, especially if it's work you don't need any prior training for, the posting is a scam.
Research the Industry
If you've never heard of some type of "easy" work-at-home job before, there might be a reason for that. By looking into the industry, you'll find out if companies even have a need for that kind of freelance work, and if they do, how much work there actually is. Look for professionals online who already do the type of at-home work you're exploring. See if anyone's made a living doing it. The less you can find, the more likely it is you've found a scam.
Know the Typical Scams
Finally, do your research on known work-at-home scams. When you're aware of what they look like and the tricks they use to look legitimate, these scams are easier to spot. Some of the most popular scams are envelope stuffing jobs, which promise to pay a dollar or two for easy work, medical billing jobs, and pyramid schemes. A legitimate job won't ask you to pay money up-front just to apply for or start the job.
Unfortunately, looking out for scams is part of job-hunting, and you'll never be able to catch all scams the same way. As long as you're diligent in your research, you'll be able to pick out the legitimate jobs. When all else fails, let your instinct lead you; if something feels off about a company or a job posting, look elsewhere.