Looking to kill time? Spider Solitaire is one of the most popular solitaire-based games there are. With common variants such as Gigantic Spider, Spiderwort or even Spiderette, this game is loved and played by millions.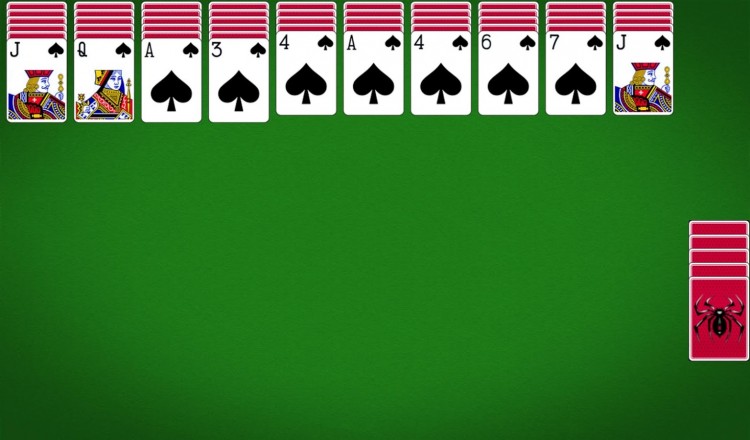 What Is It?
There are tonnes of solitaire variants out there. Spider Solitaire is just one of these variants, and it is by far one of the best ones out there. It is a Patience game, which means it is a card game that can be played by only one player, meaning you can play them alone. Some people also play Spider Solitaire against each other using a scoring scheme.
Spider Solitaire can be played online. On some online Spider Solitaire games, your number of moves will be counted and you can choose to have this on a high score board, where you can see others' high scores and try to compete against them.
How To Play
Spider solitaire is played with playing cards; usually with two packs. To set up the game, the cards have to be shuffled and then four rows need to be made of ten cards each (face down). After this, four additional cards are dealt to the four columns that are leftmost and these cards have to be dealt face down. Lastly, one face up card is put on the end of each column and the cards that remain are put face down – this forms the stock.
Like FreeCell, the objective is to build the cards in order. In Spider Solitaire, they have to be in ascending order from King, Queen, Jack, 10, 9, 8, 7, 6, 5, 4, 3, 2, Ace. When you form a sequence in that order, it gets removed and gets put in one of the foundations. When all of the cards have been placed in the foundations after getting put in this order, the game is completed.
People may compete against each other (or against themselves) by counting the amount of moves they take each turn. This is very competitive and can make the game more challenging.
Online Spider Solitaire is played by using an online deck of cards. All you need is an internet connection and a bit of free time. If you're playing online, you may also be able to save your progress if you've got somewhere you need to be – this means you won't lose your progress!
Tips
You should always try to look at hidden cards when you can. Uncovering these cards may change your next moves and give you a new way to go. It is also a good idea to try to always make empty piles. This will make it easier for you to move your cards around because you can use these empty piles as a temporary place of storage.
You should always expose as many cards as you possibly can and arrange them in order before dealing the next cards. If you don't do this, you may find yourself in a mess and you may find it a lot harder to win.