There is something thrilling about travelling – waking up in a new place, visiting places that you have only heard about, being able to know new people and their new culture, the whole thing sounds so exciting. Isn't it!
But wait, there is one downside of travelling to a distant place (sigh). You easily look tired and messy after travelling for long hours in a plane, car or train. It's really sad but true. Being cramped in a small place for a long time leads to exhaustion, so people who love to travel frequently must wear clothes that make them comfortable along with enhancing their personality.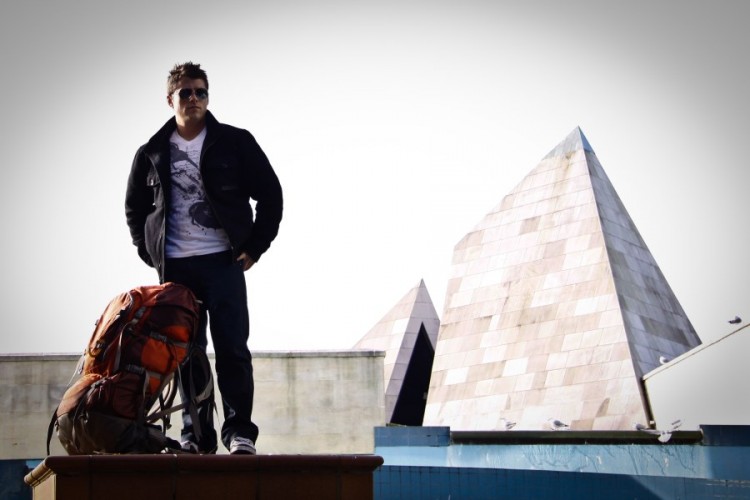 Gone are the days when men would wear suits and ties and travel in style. Today it is all about comfort and style. So here are some quick and easy hacks to help you have a hassle-free travel:
1. Put on the Layers
It is always recommended to dress in layers when travelling long distances. Whether you are travelling in a train or plane, you will have to overcome various disparate temperature zones – you might be in a tropical zone from where you enter the plane cabin that feels like the Arctic.
The major benefit of layering clothes is that you can take them off or put on whenever required. So if you love wearing custom made shirts, you can wear a sports jacket over it and accessorize it with a cotton scarf. So if you feel hot you can take off the scarf and the jacket and use them as a makeshift pillow. You can carry a cardigan or shawl in your handbag, so that you can wear them in case you feel cold. Another benefit of layering is that you don't need to pack too many things in your luggage.
2. Choose Breathable Fabrics
In order to stay fresh and relaxed, it is necessary that you wear clothes made of breathable fabrics such as cotton, linen or silk. Natural fabrics facilitate air circulation and allow moisture to pass out, so you keep feeling fresh. Clothes made of artificial fabrics trap sweat and don't allow air circulation, which makes you feel dirtier and exhausted. So whether you are wearing t-shirts or button-downs, make sure they are made of natural fabrics.
3. Pack a Vest
If you are looking for a piece of cloth that can be matched with almost anything and everything, you need to pack a vest. They can be paired with t-shirts, button-downs, jeans, trousers or anything you can think of. Moreover vests use very little fabric, so you can even carry it in your handbag. Moreover, if you are not a person bold enough to sport a scarf, you can wear the vest inside the blazer or sports jacket to keep yourself warm. This is a highly functional piece of cloth, so you can wear it even when you are out for sight-seeing.
4. Wear Solid Dark Colored Clothes
This is another important factor to consider when travelling. It is always recommended to wear dark colored clothes when travelling – it helps you hide the spills and dirt. Plus you can wear the clothes again at the destination getting them washed. For instance, you can wear a navy blue colored t-shirt with a grey jeans paired with a contrasting vest or jacket. If you want to don a stylish look, you can wear a hat and loafers. You can also wear khakis if you feel comfortable in them.
5. Wear the Right Shoes
Wearing the right footwear is the secret to comfortable travelling. Never make the mistake of wearing new shoes when travelling long distances. Wear flat and comfortable shoes, since there are high chances of cramping if you wear tight fitting shoes. Moreover, you should wear shoes that you can easily slip in and take off while passing through airport security.
Important Note: if you have pre-existing medical conditions then you should wear supporting or compression legwear (socks and stockings) to facilitate blood circulation and prevent swelling and deep vein thrombosis (DVT).  Take a walk at regular intervals to increase blood flow and prevent cramping.
Conclusion
Travelling has become almost a day to day endeavor unlike the yesteryears when it used to be a glamorous event. Travelling today means being prodded and cramped into a small space that makes you feel like a herd of cattle, only with few candies as consolation.
So in order to make travelling memorable and comfortable it is necessary that you dress comfortable without compromising the style factor. If you're dressed well, you feel energetic and you're ready to go anywhere and meet anyone. However, it is quite possible that you become overwhelmed and put on the most stylish clothes from your closet; but you should stop yourself from going overboard.
Wear comfortable and functional clothes that will allow you to travel comfortably and wear at your destination as well.