If any Pink Floyd song could be made into a place, it would probably translate into a tourist destination in North East India. Such is the beauty and grandeur of this hilly terrain tucked away quietly into the lap of the Himalayas. Connected to the mainland via the siliguri corridor the 7 sister states of Arunachal Pradesh, Assam, Manipur, Meghalaya, Mizoram, Nagaland, Tripura and the state of Sikkim, offer unique tourist places in North Eastern states of India.
These spellbinding North East tourist attractions are the ultimate thirst-quenchers for wanderlust. Explore the rarely explored and barely touched North East tourist places, courtesy of North East India tourism underplaying the sheer scenic beauty!
Take a note of what to do and what to eat once you're there.
Finally add them to your travel-bucket list if you already haven't!
Adventure beckons with exciting offers and deals on North East India travel and tour packages from MakeMyTrip. Breathe in the pristine mountain air, soak in the warmth of the sun-kissed peaks and live life like you were always meant to.
Without any further ado, let's jump into North East India's point of interest and best places to visit in the North East.
8. Floating islands, Loktak Lake, Manipur
You must have seen beautiful islands amidst serene azure waters, but have you ever laid eyes on floating islands? Well, if the answer is a 'NO', you're in for a surprise!
Feast your eyes on the beauty of floating Islands on the Loktak Lake.
This lake located in Moirang, Manipur houses unique floating masses composed of vegetation and soil called Phumdi. Rich in biodiversity both flora and fauna, Loktak lake is a nature lover's paradise.
Other not-to-miss destinations:
*  Keibul Lamjao National Park
* INA museum.
*  World War Cemetery in Imphal

Food and Cuisine:
*  Iromba, an aromatic dish made of fermented fish in boiled vegetables is a non-vegetarian's delight.
*  Fear not vegetarians, your saviour is Sana thongba, a paneer (cottage cheese) delicacy, loved by one and all in Manipur.
7. Unakoti, Tripura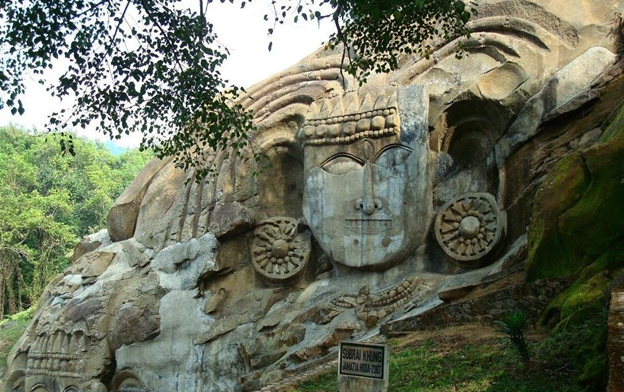 Literal meaning of Unakoti is 'one less than crore', (kuti meaning crore in bengali) Legend has it that these carvings and murals are of Gods and Goddesses who were cursed by Shiva to turn into stone after they failed to comply with his command. Shiva being the one who walked away, there are less than a crore murals/carvings..hence Unakoti.
While that is open to interpretation, the sheer scenic beauty is not!
Intricate rock carvings and the primal waterfalls create an eerily peaceful environment.
Other not-to-miss destinations:
*  Neermahal
*  Ujjayanta Palace
*  Dumboor Lake
*  Jampui Hills (especially during Orange Festival in the months of October-November) and
*  Tripurasundari Temple.
Food and Cuisine:
* Mui Borok (or the tripuri cuisine) with dried/fermented fish as it's base, is a drool worthy affair no true non-vegetarian can avoid.
* Bhangui (sticky rice) and Gudok (boiled vegetables with dry fish) are the standouts.
* Kothalor Chakoi (jackfruit seed preparation) and
* Tomato Oambal (tomato chutney with jaggery, chilli and lemon juice) are something vegetarians should look out for.
* Quintessential bengali dishes like Macher Jhol (Fish Curry)
* Shorshe/Bhapa Illish (Hilsa in Mustard/Steamed Hilsa) and
* Chingri Macher Malaikari (Prawn in creamy coconut sauce) are popular as well.
6. Tawang, Arunachal Pradesh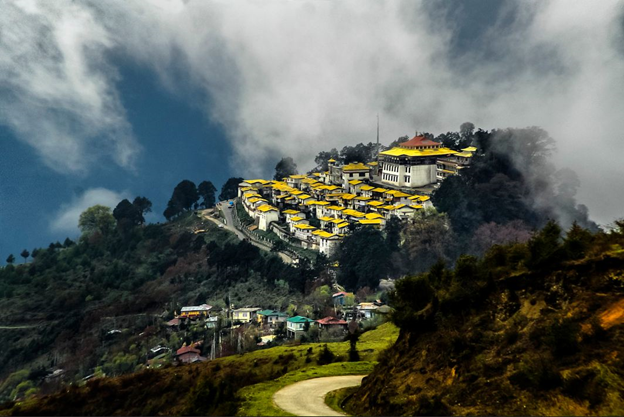 In the smallest district of Arunachal Pradesh lies hidden a treasure trove of passes, lakes and waterfalls. Sela pass, Bumla Pass, Gorichen Peak to name a few. Apart from that Tawang houses the second largest Monastery in Asia, Tawang Monastery.
Do you fancy a snowy ride through the winter wonderland with mist ahead and a chilly breeze? Then, Tawang is the what you've been looking for (of course in the winters!)
Tawang definitely tops the list of places to visit in North East India in December
Sharing borders with Bhutan, China and Burma, Arunachal is a paradise for botanists owing to its rich biodiversity. Tawang adds yet another feather to the cap.
Other not-to-miss destinations:
* Ziro Valley (during the music festival)
* Bhalukpong
* Pangateng Tso Lake
* Madhuri Lake
* Bomdila
* Namdapha National Park
Food and Cuisine:
* Bamboo shoots go well with all sorts of dishes.
* Lukter (dried chicken preparation in chilli flakes) and
* Apong (alcoholic beverage made of rice) are a must have.
* Vegetarians can gorge themselves on Momos, thukpa and boiled rice cakes.
5. Majuli, Assam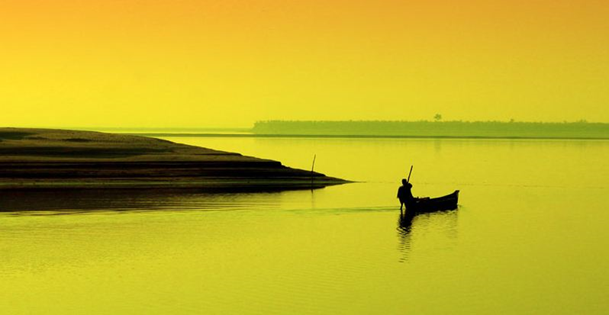 The largest river island in India, Majuli is quite unique because of balance it maintains owing to its status as a biodiversity hotspot, hub for the vaishnavite culture and a medley of communities like the deoris, mishing and ahoms. The sunset looks like something straight out of a van gogh painting. It's a shame some of this island is getting eroded year after year  due to the floods.
Other not-to-miss destinations:
* Kamalabari Satra (Majuli)
* Sibsagar (Talatal Ghar)
* Kaziranga National Park (Guwahati)
* Kamakhya Temple
Food and Cuisine:
*  Paro manxo (pigeon meat)
* silkworm (if you're up for it!) and
* fish delicacies such as Maasor Tenga (zesty-sour fish curry).
* Vegetarians won't be left disappointed thanks to Labra (mixed vegetable curry)
* Paleng Xaakor Khar (spinach khar) and
* Aloo Pitika.
4. Umngot river, Meghalaya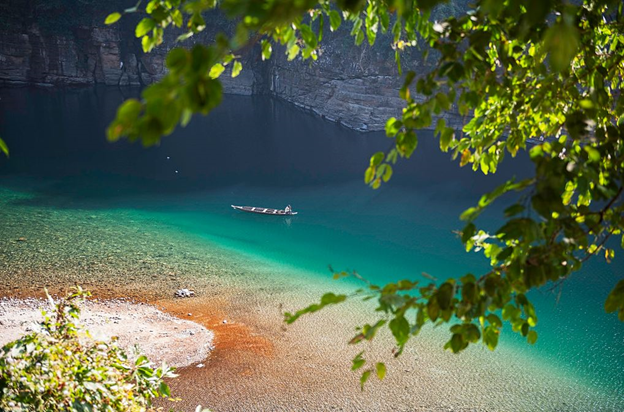 Imagine a river that's so clean you can see the very bottom (bed of the river), and you've got yourself the spectacle that is umngot river.
"Pristine, crystal and clear water" doesn't even begin to do justice to what Umngot river offers. Flowing through the small town of Dawki is not only extremely photogenic but also breathtaking in the literal sense, like someone knocked the air out of your lungs!

Other not-to-miss destinations:
* Living Root Bridge, Cherrapunji
* Mawsmai Cave
* Elephant Falls
* Mawkdok Dympep Valley
* Ka Khoh Ramhah
Food and Cuisine:
* Jadoh(rice cooked with pork, green chilli, turmeric, onions and other spices)
* Dohkhlieh (Salad made with pork, onion and chilli)
* Dumplings/Momos
* Minil (sticky rice).
3. Vantawng water falls, Mizoram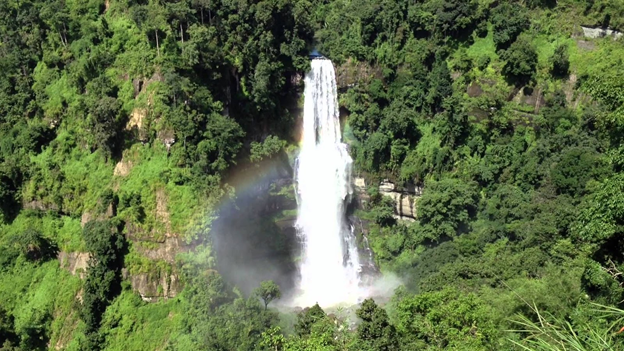 This waterfall spanning two tiers is the highest waterfall of Mizoram and it is as grand and spectacular as it gets. Apart from this waterfall, Mizoram is the ultimate destination for bird watcher's. With a huge forest cover Mizoram boasts of a rich biodiversity, which you can make full use of by going cycling or trekking through these forests (of course the ones that are permitted). Get a little closer to the forests, live the primal life!
Visit Mizoram during Chapchar Kut Spring Festival to enjoy the full hospitality of the mizo folks.
Other not-to-miss destinations:
* Tamdil Lake
* Solomon's Temple
* Reiek Heritage Village

Food and Cuisine:
* Misa Mach poora (grilled shrimp)
* Bai (steamed vegetables with/without pork)
* Mizo Vawksa (smoked pork in spinach and mushroom)
* Chhum Han (mixed steam vegetables)
2. Nathula Pass, Gangtok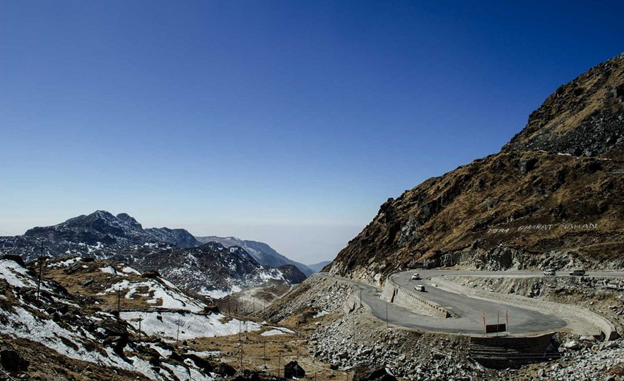 Connecting Indian city of Sikkim to China's Tibet, this pass is a remnant of the ancient silk road. The permit you need to get from Gangtok for visiting this pass is definitely worth it.  Steaming momos and chilly breeze, can life get any better? The answer is: Yes it can!
How, you ask? Yak rides! Don't miss out on the once in a lifetime opportunity.
Other not-to-miss destinations:
* Tsomgo Lake
* Baba Harbhajan Singh Memorial Temple
* Shingba Rhododendron Sanctuary
* Bakthang Waterfalls
* Kanchendzonga National Park
* Menmecho Lake
Food and Cuisine:
* Thukpa/Thenthuk
* Gundruk and Sinki (Fermented cauliflower, radish and tap root leaves)
* Shah-Phaley (stuffed bread with beef and cabbage)
1. Hornbill Festival, Kisama, Nagaland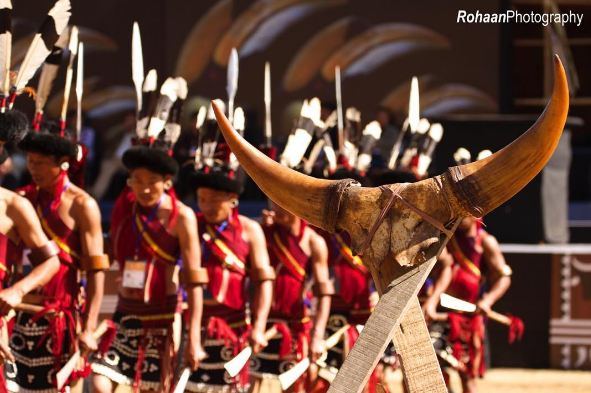 Kisama Heritage Village comes alive during the first week of December, with the colors of Hornbill Festival. Dubbed the 'festival of festivals', Hornbill is used to promote the culture, heritage of Nagaland and at the same time celebrate the Hornbill bird which is integral to the folklore.
Visit the Hornbill Festival to experience and enjoy the rich colors, customs, cultures associated with the elaborate and intricate attire donned by the male and female performers.
Other not-to-miss destinations:
* Kohima War Cemetery
* Dzukou Valley
* Kachari Ruins (Dimapur)
* Japfu Peak (Kohima)
* Doyang River (Wokha)
* Intanki Wildlife Sanctuary (Kohima)
Food and Cuisine:
* Porong (fish stew)
* Pork with dry bamboo shoots
* Lima Beans Curry with Beef
* Naap Nang (sticky rice pudding)
* Rongmei Cabbage Curry with Pork Fat