That time of year is coming up soon – when your company hosts the annual Christmas bash. A work Christmas do can be a great opportunity to relax and have some fun, but there are some things that you should keep in mind. A work party is different than a party with your friends, so there is some important etiquette that you will need to keep in mind.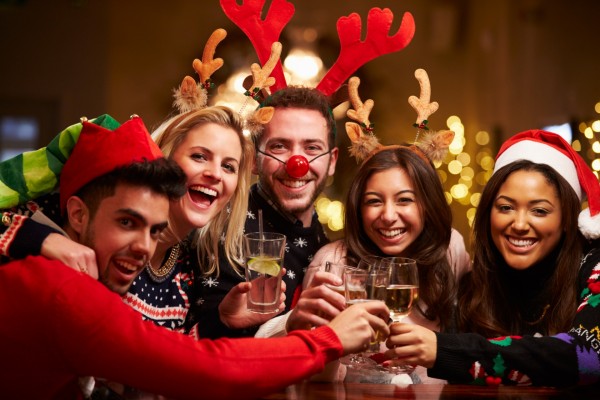 Eat, Drink and Be (Moderately) Merry
Feel free to indulge in a few alcoholic beverages, but avoid drinking so much that you are vomiting on the sidewalk in front of the hotel or dancing on the table tops. Remember, all of your colleagues and bosses are at this event, so any drunken mishaps will never be able to be lived down as long as you work there. Also, the alcohol might loosen your inhibition enough to say something terrible to your boss that you will regret in the morning.
Know your limit and stay within it so that you can have a bit of tipsy Christmas fun without getting out of control. Also, avoid swearing and off-colour jokes unless you know that your workplace is accepting of that kind of banter and no one will be offended.
Dress Appropriately
Although the work Christmas party is a social event, it is still a work-related function so avoid wearing anything too sexy. Save the short skirts and plunging necklines for when you are clubbing with your friends and simply wear a dressier version of what you would normally wear to work. Dressing for success will make you more respected and successful, so it is important to look the part. Also, make sure that you show a little bit of Christmas cheer in your style – whether that is snowflake earrings or a reindeer broach or a stylish Christmas sweater.
Feel Free to Mingle
Don't just spend the entire evening at the conference venue in Cheshire talking with the same people that you socialise with on a typical workday. The office Christmas party is the perfect opportunity to mingle with some other people in your organisation and get some networking done. Try to chat and mingle with lots of people, as well as their partners and spouses. This is a great networking opportunity, so take the chance!
Also, take the time to chat to your co-worker's plus one. When someone brings their spouse to the company party they can feel a little bit out of place because they don't know anyone and aren't in on the company inside jokes and banter. If you take the time to get to know the spouse and make them feel included in the conversation, they will appreciate it. Plus, if you make a good impression on your boss's spouse they might put in a good work for you with the boss.
Avoid Talking About Work
You don't want to be the boring person who is going on and on about work all evening. It is a social event so leave the work at the office and simply relax and have a good time. This is an opportunity to get to know your colleagues for their personality, rather than just talking about your latest project. Show that you are an interesting and well-rounded person and you can talk about more than just work.
Show Up to Work the Next Day
Even if you end up staying a bit later and sharing a few extra glasses of wine with your colleagues, make sure that you still show up for work the next day. If you call in sick, everyone will know that you are not sick – you are just nursing a terrible hangover. However, hopefully your company hosts the Christmas party on a Friday night rather than a weeknight so that you don't have to worry about this.
These are just a few tips to keep in mind for your company's Christmas party at one of the hotels in Cheshire. This social event doesn't have to be awkward, it can be a fun time for everyone to network and get to know each other. Keep these tips in mind and you can navigate the Christmas party gracefully and have a fantastic time.