With all the planning and preparation, not to mention investment, that goes into a destination wedding, you want to make sure you get the best photographic memories to preserve the wedding for years to come. Hiring a photographer for a destination wedding may initially appear to be more complicated than hiring a photographer for a London wedding, or other UK wedding, but the process of choosing the right professional is actually very similar, with a couple of specific considerations to take into account.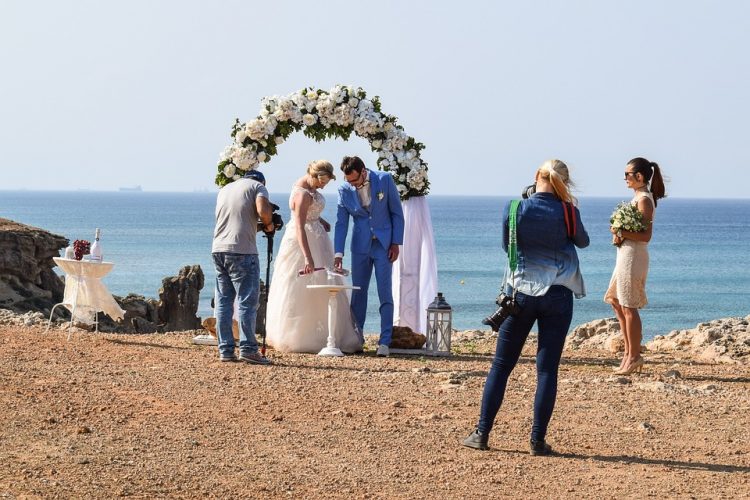 Understand the Importance of the Photographer
It is not a good idea to try and economise on the photographer at any wedding, and not least at a destination wedding. Your photos will probably be the only physical things remaining of the big day in years to come, so you need to find a photographer who will capture your day with the style and expertise you need. Finding a photographer is a question of choosing a professional who you can work well with, and who has a style you like, producing finished work that you admire. When you have the best idea of the kind of photography style you like, and your budget, you can look for a destination photographer in the following places.
Hire the Resort's Photographer
If you are getting married at a resort abroad you may want to use the resort's photographer for convenience, or because you do not have the budget to fly a photographer out from London. In the case of many resorts, they will not allow you to use any other photographer apart from their own. This is fine when the photographer is good, but bear in mind that you do usually get what you pay for. Look at the images the resort photographer produces and if you do not like what you see, ask to bring your own or choose another resort where you have more options.
Hire a Local Photographer
You also have an option of hiring an independent photographer based in your destination. There are bound to be many experienced and skilled photographers working in the region, but you do have to know where to find them. It can be difficult to get recommendations when you are not a local yourself. The best thing about a local photographer is they will usually know the best spots to take pictures and will be able to work with the local lighting and weather conditions. But they may not speak English, or their English may be poor.
Hire a London Photographer
The other option you have is to choose one of the wedding photography london experts – fly in someone from your town to shoot your wedding. While this may be more costly than other options, and you need to find a photographer willing to travel, it can be the best option when you are absolutely set on working with a certain person.