EBook readers have seen a lot of success throughout the American and European markets. And just about a few years ago, technology giant-Sony decided to jump onto the eBook bandwagon, introducing its own range of readers.  One of the company's latest is the Sony Pocket Edition PRS-350, which comes with a touch screen interface (something all previous Sony readers did not have) and Pearl E-ink technology with improved contrast.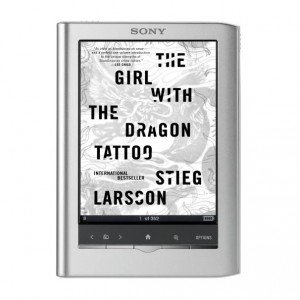 Specifications
The PRS-350 is light weight, with a compact 5 inch screen display. Lighter and smaller than a paperback book. The reader only weighs 5.47 ounces, easily fitting into a roomy pocket or a purse. The look is sleek and trendy. The front is metal and the back is plastic. No hardware keypad included as this one is all touch screen. Use your fingers or the stylus that comes along. Previously Sony had to face issues due to the screen filter, which affected the reader contrast and users literally had to glare at the screen to properly read. This time, using the E-ink technology, Sony has once and for all got rid of the filter issue; that's a treat for the PRS-350 users. It comes with 2 gigs of internal memory (enough to store about 1200 eBooks) with built in multi lingual dictionaries, 2 English and 12 translation dictionaries. Double tapping a word will pop up its meaning and the reader keeps a record of all the words you look up. There are six font sizes to choose from. Once the battery is fully charged, it runs up to 2 weeks without another charge. Supports various file formats like PDF, Microsoft Word, EPUB/ACS4, etc. and image files such as JPEG, PNG, GIF and BMP. There's also Sony's own reader software for Windows and Mac that converts files before they are stored on the reader. Silver and pink colors are available.
Pricing
Our Sony Reader Pocket Edition PRS-350 review listed out everything that makes this product great, but we only miss out on the price. The PRS-350 costs $179.99, more costly than some larger sized EBook readers in the market. Plus, it does not have Wi-Fi or 3G wireless connectivity, which means you'll have drag and drop books using the USB support.
Conclusion
If the price and Wi-Fi connectivity issue does not bother you than the Sony Pocket Edition, PRS-350 is the perfect e-reader for you. It's loaded with features and now comes with a touch screen, plus a nice color for girls to go for.