In the past couple of years, Xiaomi has emerged as the most valuable startup ever at $45 billion valuation last year. The company started with the smartphone business, and later also started making tablets, mobile accessories, televisions, and recently smart home appliances. In the smartphone business, the vendor has been growing its market share in emerging markets like India. Lenovo is one of the biggest rivals of Xiaomi, which after making a name in the personal computing business entered the smartphone arena in the recent years. Both the manufacturers offer feature-loaded smartphones at budget friendly prices.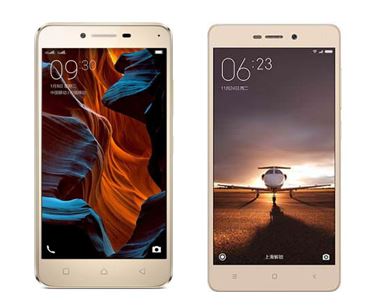 To compete in the budget segment, Lenovo and Xiaomi introduced their latest offerings called the Lemon 3 and Redmi 3 respectively in January this year in China. Both smartphones offer quite similar specifications with some minor differences here and there, and are priced at around Rs 7,200 each. These devices are yet to be launched in the Indian market, but if you are planning to purchase any of these once they land here, let's compare their specifications to find out how they stand against each other.
Lenovo Lemon 3 vs Xiaomi Redmi 3: budget feature-loaded devices compared
Design
Talking about the design first, the Lenovo Lemon 3 flaunts a metal unibody design that is available in gold and silver hues. The phone has capacitive buttons on the front, and sports stereo speakers on the rear, which are powered by MaxxAudio technology and Dolby audio to deliver an immersive media experience. The phone measures 8.2mm around the waist, and tips the scale at 142 grams. The Xiaomi Redmi 3 on the other hand sports a more premium design with a full metal body with a unique pattern on the back, which gives it a classy touch. The phone packs in a large 4,100mAh battery. However, despite the huge battery, the handset sports a sleek profile with an 8.5mm frame, and weighs just 144 grams. Overall, design-wise, the Xiaomi Redmi 3 looks premium and appealing than the Lemon 3.
Display and OS
The Lenovo Lemon 3 and Xiaomi Redmi 3, both the smartphones sport 5-inch IPS LCD displays. However, the Lemon 3 offers a better media viewing experience than the Redmi 3 thanks to a full HD screen panel, which delivers a pixel density of 441 pixels per inch. The Redmi 3 on the other hand gets an HD resolution display with a pixel density of 294 pixels per inch. Software-wise, both the devices run Android 5.1 Lollipop with their respective brand's custom user interface on top.
Configuration
In terms of configuration, the Lemon 3 and Redmi 3, both the smartphones offer similar specifications. They are powered by 64-bit Qualcomm Snapdragon 616 SoCs, which sports quad-core clusters running at 1.5GHz and four cores spinning at 1.2GHz. Their SoC's are further supported by 2-gigs of RAM and Adreno 405 GPUs. For storage, they get 16-gigs of internal memory. The Lemon 3 accepts microSD cards up to 128GB for further storage expansion, while the Redmi 3 only accepts up to 32GB in size.
Camera
Moving on to the camera, the Lenovo Lemon 3 and Xiaomi Redmi 3, both offer similar features. They offer 13MP primary snappers with LED flash, ISO control, HDR, Continuous Shooting, Face Detection, Touch to focus, and full HD video recording at 30 frames per second. For selfies and video-calling, they sport 5MP secondary snappers with f/2.2 aperture. The Redmi 3 offers slightly better imaging experience thanks to phase detection autofocus (PDAF), which offers faster autofocus speeds than the Lemon 3.
Connectivity and Battery
In terms of connectivity, the Lenovo Lemon 3 and Xiaomi Redmi 3 offer the same features, including dual-SIM slots, Wi-Fi, Bluetooth, micro-USB 2.0, FM Radio and GPS. The Lenovo Lemon 3 is powered by a 2,750mAh battery. The Xiaomi Redmi 3 on the other hand is backed by a very powerful 4,100mAh battery, which is among the biggest highlights of the phone.
Conclusion
The Lenovo Lemon 3 and Xiaomi Redmi 3, both the smartphones offer excellent specifications for their price range. They get compact displays, premium appealing designs, powerful octa-core Snapdragon processors, generous internal storage capacity, latest connectivity options, and latest software. However, the Lemon 3 sports a higher resolution full HD display for colour-rich detailed media experience. The Xiaomi Redmi 3 gets an HD display, but is backed by a beefy 4,100mAh battery, which can easily last for two days with regular usage. Both the smartphones are priced at Rs 7,200 in China, and are expected to be launched in India in the coming months. So, which one of these devices have caught your attention? Share in the comments with all.