A recent poll of landscaping architects done by the American Society of Landscape Architects has come by a surprising trend — in both drought-hit regions such as California and Arizona, as well as the rest of the country, homeowners consider water conservation one of their top focus areas when they make landscaping design choices for their homes. If you are considering a landscaping overhaul for your backyard, and want to make choices that are as responsible as they are beautiful, here's a quick look at current trends.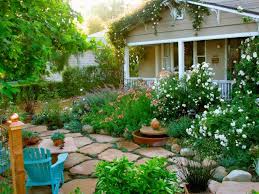 Water Conserving Planting Design
When you spread your plants out along a wide area, you end up wasting a great deal of water. Spillage occurs to the area surrounding each plant. Concentrating all your thirsty plants in one or two areas, on the other hand, helps minimize water use. Spillage is always usable by another plant nearby.
Clumps of flowering plants, then, are very popular today, especially drought-resistant ones such as lavender and arborvitae. It's even a good idea to plant alongside walkways. When it rains, it's these plants that receive the runoff.
Planting Dense Groundcover
Herbs such as thyme that survive well in dry conditions, have an even more useful function — they provide excellent groundcover that keeps rain from quickly eroding soil. It can be a useful and pretty plant to preserve moisture and soil in naturally sloped areas of the backyard. A particularly popular trend involves decorating such areas with rocks, and planting thyme among them. It can be a luxurious effect.
A Fountain to Counter the Effect of the Heat
According to Pioneer Sand, a leading vendor of pavers in Arizona, these flat, shaped objects are a popular landscaping choice today. Pavers can both add character, and neatly cover an area. Many landscape architects space their pavers out, and plant lush drought-resistant plants among them (thyme would be a good choice here). You could go a step further to put in a beautifully carved fountain in a prominent place. A fountain can help cool an area; more importantly it can make for a psychological effect of coolness.
Backyard design trends today aren't just about plants and water bodies, either. They are often about pebble gardens, fire pits, hot tubs, outdoor kitchens and outdoor dining areas. Everyone loves putting their backyard to some real use.