"Cheltenham Festival" by Carine06 (CC BY-SA 2.0)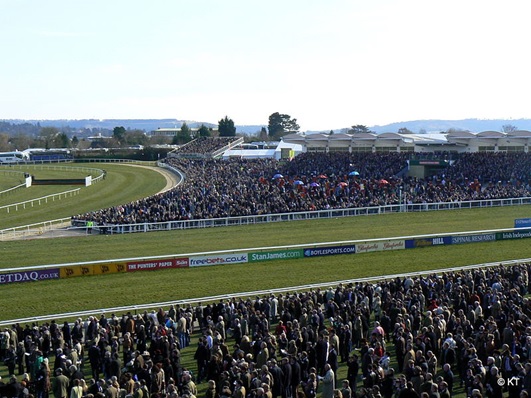 The Irish horse racing trainers have had a rich history when it comes to successful mare hurdlers, and the next one off the production line looks sure to be Apple's Jade. She rose to fame last season but, this year, she looks better than ever, and looks sure to have a great chance of winning whichever race she runs in at the Cheltenham Festival.
That appears to be a little up in the air right now, with speculation that she could run in the Stayers Hurdle instead of defending her Mares Hurdle crown. While trainer Gordon Elliott has stated the Mares Hurdle is her target right now, Oddschecker reported strong betting moves for her in the Stayers Hurdle after her recent success over Nichols Canyon.
While it may still be unclear where she heads in the spring, the one thing no one can doubt is the talent that this lovely mare has. She has won a total of nine races, from 13 career starts, a great strike rate and with so much more to come as she is only five, there is plenty to get excited about. In the four races that she didn't win, she finished 2nd in every one of them, and her biggest defeat has been just two lengths. If ever there was a mare that the whole racing community would love to own, it would be this one.
Should Apple's Jade run in the Mares Hurdle then the biggest threat to her retaining her crown looks sure to come from fellow Irish runners from the Willie Mullins yard. The race has been dominated by Mullins in the past, with him winning eight out of the last nine renewals of the race, only Apple's Jade stopped him from continuing that run last season. Even though Mullins didn't win the race last season, he did manage to have the second and third, this is a race he loves and one he knows how to win so don't underestimate whoever he sends to the race.
However, when you look through the list of potential runners from the Mullins yard, none of them looks capable of beat Apple's Jade, and trainer Gordon Elliott will certainly not be scared of them. During the past few races, Apple's Jade has either beaten them or shown a far superior level of form to them and with that in mind, the Mares Hurdle does appear to be the easiest race for her to tackle.
There is also the thought process that she would like to retain her crown, after winning the race at the 2017 festival. We saw the great mare Quevega win this race a remarkable six times in a row and should Apple's Jade fancy it, then she could always have a crack at her record, she certainly has enough time on her hands to do that. It would take a special horse and a special performance for Apple's Jade to replicate Quevega, but from what we have seen so far, there is a chance she could do that, something not many thought they would see happen again so soon after Quevega.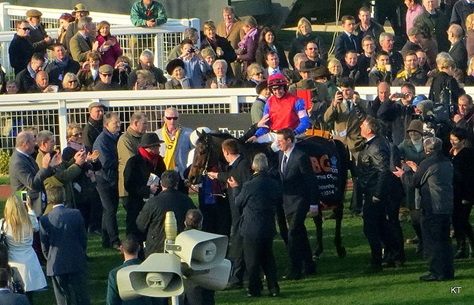 "Quevega" by Carine06 (CC BY-SA 2.0)
The second option for Apple's Jade at the Cheltenham Festival would be the Stayers Hurdle, an open race so she would be taking on the boys, and a traditionally much tougher one. It is also a race that doesn't have the ideal conditions that Apple's Jade appears to need, so this would really test just how good she is. She has never ran over a distance of more than two and a half miles, the Stayers Hurdle is over three miles so the first thing to question would be whether she has the stamina for the race.
As well as stretching her stamina, the race is of course much more difficult to win, these two combined together makes it unlikely she goes for the Stayers, but that decision is yet to be 100% confirmed.
Should she go to the Stayers Hurdle then on form she would have a good chance of competing with the best staying hurdlers, and would be one of the favourites to win the race. Those of the mindset that horses should always run in the best race the possibly can, and they should aim to win the biggest prize will be hoping she goes for the World Hurdle. That would set up a fantastic clash, with the horses Nichols Canyon, who won the race last year and Unowhatimeanharry, third in the race last year. The thought of those three going to the race and clashing will certainly get many racing fans excited, and the clash shows just why the best should always race against the best where possible.
To give hope to those in the Apple's Jade corner, she came out and comfortably beat Nichols Canyon by nine lengths earlier this month. Her opponent was having his first run back of the new season, but it was still a mightily impressive performance from the young mare, she didn't need to get into top gear to beat a previous Cheltenham Grade 1 winner.
Elsewhere, Unowhatimeanharry has come back and won a small race before being turned over by a big outsider in his next run, showing he isn't as bombproof as some thought before he lost at the 2017 festival. Many thought he could dominate this division for a number of years after he won eight races in a row since arriving from France. However, he was beaten at Cheltenham and since then he has done nothing to show for certain that the race was a blip.
The big difference between the two races is that Apple's Jade has shown her authority and assertiveness against her own sex to dominate the race that is three months away. If she does turn up for the Mares Hurdle, she will be favourite – and a short priced one at that. Compare that to the Stayers Hurdle, where no one has taken the division by storm, it is unclear who is the horse to beat and right now, punters have no idea who will be favourite for that race.
The easy option for the Gordon Elliott team would be to send her to the Mares Hurdle and allow her to continue her domination of the division, she could do that for a number of years. She does have challengers, but none appear to be close to her right now, and with potentially more to come from her, she looks to have a clear game before the second best horses get anywhere near her.
The challenging but potentially more rewarding route would be to try their luck in the Stayers division against the boys. The division looks to be there for the taking, with many horses putting up top performances, before failing to back that up when seen again. While this is the much tougher option for Apple's Jade, and she also has to deal with the step up in distance by half a furlong, this is certainly the most intriguing option and potentially the most lucrative.
While dominating the Mares Hurdle would be fantastic, there would always be that question of 'what if' hanging over the Elliott camp. The Stayers Hurdle is one of the four main championship races at the festival, and a prestigious race to win. This year looks to be a wide open renewal, no one has their grip on the race right now, and it would potentially be a huge missed opportunity if Apple's Jade didn't go down that route. It would also be a huge blow for the sport, everyone wants to see the best horses run against each other, and as far as Cheltenham 2018 goes, that would mean seeing Apple's Jade take on the boys in the Stayers Hurdle.