When we talk about the Carousels, we immediately get into the memories of our childhood and remember the fanciful and colorful world that we once enjoyed the most. If you are willing to enjoy the same excitement in your adulthood, US can be the right holiday destination for you. If you are planning to visit US in the upcoming days, you should not miss to check out the carousels from Bygone Era that are still opened and offer huge excitement and delights for both the adults and children today.
Here are some updates regarding the major carousels that can be visited by you.
San Francisco Carousel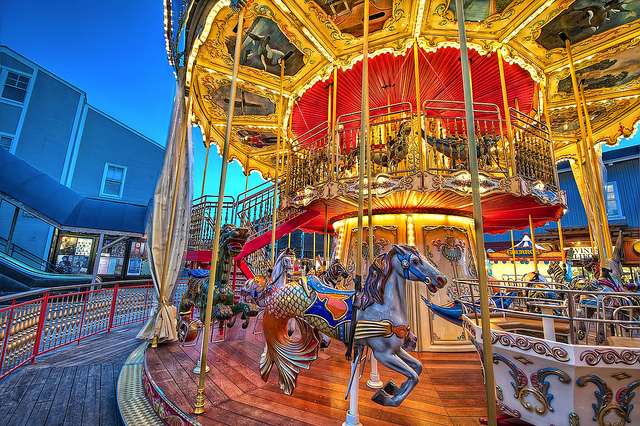 Centrally located at Pier 39, the San Francisco carousel is a small two-storied carousel that attracts the attention of the tourists to a great deal. When in US you can be a part of this carousel and enjoy a ride on almost 32 animals. The complete arrangements were beautifully designed in Italy and boast 1800 lights. Visiting this place before sunset will provide you an opportunity to have a look at the sea lions and jump on them.
Tom Mankiewicz Conservation Carousel
Designed in an old-fashioned manner, this new carousel is worth $2.5 million and is located in California at Los Angeles. In order to explore this place during your Los Angeles trip, you can go to the Zoo. In the carousel, the visitors can have a look at the 66 hand-carved wooden animals. All these are the endangered species. Here you can enjoy jumping on honey bee, silverback gorilla, Komodo dragon etc.
Crescent Park Carousel
Another master piece of history can be visited at the Rhode Island. The Crescent Park carousel that dates back to 1895 was built and designed by the famous designer Charles I. D. Looff. This place is beautifully decorated with hand-carved 66 horses, glass jewels, mirrors, band organ etc. This is a National Historic place that should not be missed by you during your US trip.
Jane's Carousel, Brooklyn, New York
Considered to be a historic treasure, Jane's carousel dates back to 1922 built in the Gilded Age. Currently located in the city of Brooklyn, more specifically Brooklyn Bridge Park, this colorful place is an outstanding place to have fun and enjoyment. The glass structures inside the carousel make it glow catching the attraction of the visitors and providing them an opportunity to enjoy the rides.
This travel information will surely help the backpackers in having memorable and cherishing experiences.