Home ownership is expensive; the cost of buying the property itself, the legal fees, moving costs and the on-going financial commitment all leave little spare cash to do up the property you've just poured your life savings into.
Thankfully, if you follow our tips, doing up your property needn't be expensive – there are lots of things you can do for under £500 that will leave your house feeling like a brand new home!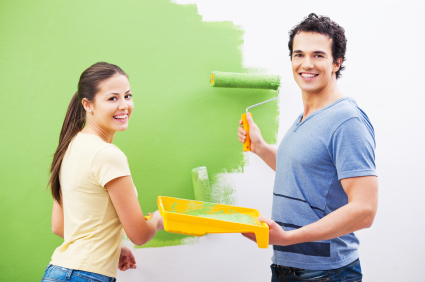 Add a lick of paint – Repainting the whole house, or even just a few key areas is a relatively inexpensive way to totally refresh and transform your property. Using neutral colours and then adding highlights and colour with accessories is an affordable way to update your property. It also means you can continue to refresh the look and feel of the property by simply changing the accessories rather than having to undertake an entire repaint again.
Update your kitchen – kitchens are a focal point of the modern home and therefore much of your attention should be focused here when prioritising where to spend your money. You needn't spend thousands gutting the kitchen and installing a new one, instead simply replacing the worktops, and if necessary the tiles, can give your kitchen a makeover at a fraction of the cost. If your cupboards are a little worse for wear, hardwearing cupboard paint is now available in all high street DIY shops and can leave your kitchen looking brand new. With a bit of time and effort you can easily create a brand new looking kitchen for under £500.
Deep clean your bathroom – Bath rooms can be tricky rooms to update without spending a lot of money, but a deep clean is a great start! Hiring a steam cleaner, if you don't have one, can be a great investment to get to those hard-to-reach places without the use of harsh chemicals, and will leave your grout sparkling. Replacing things like taps, toilet seats, shower curtains and screens can also make a real difference for minimal spend.
Create a warm welcome – If you've just spent all your hard-earned cash buying a property, you want it to be welcome you home every day, and there's no better way for it to do this than by addressing the property's kerb appeal. Try repainting the front door, or if the door is composite/uPVC consider how to best 'dress' the front of the property. New plants, new outdoor lighting, or simply pressure washing any outdoor space will all make a big difference.
Accessorise! – Don't underestimate the impact of soft furnishings and wall art – a few new cushions and pictures on your walls can transform your property for next to no money. Mirror walls are a major trend for 2016, so look out for interesting looking mirrors in charity shops and car boot sales and create a real feature for a few pounds.