Having a smartphone is supposed to help you organize your life and get things accomplished efficiently. Reaching those goals, however, will require the right apps. If you are a busy person who never seems to have enough time, consider adding these four apps to your phone.
Todoist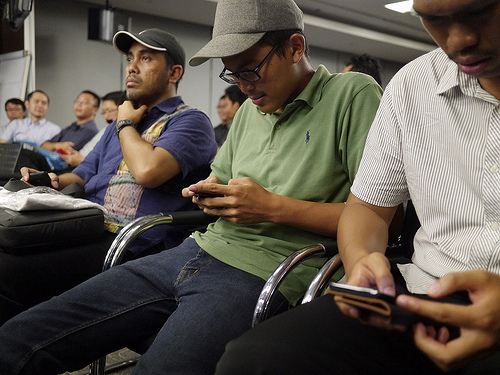 Price: Free, or $28.99 per year for Premium, from Google Play
Todoist is a simple productivity app that lets you make lists of the things you need to do. As you complete tasks, you tap them to show that they're done. This not only keeps you focused on assignments, but also gives you a sense of accomplishment so that you stay motivated throughout the day.
You can download the app to your Android device for free. The HTC One M9, for instance, is perfect for this app because of its 5-inch display and its fast Android 5.0 Lollipop processor. The free version of Todoist gives you the basic features, but for just a couple dollars a month, you can access the Premium version. This gives you extras, including:
Mobile and email reminders
Location alerts
Productivity tracking
Automatic backups
Project templates
If you like the free version and you are serious about reaching your goals, then you will want Premium. Those extra features can make you more efficient and ensure that you never miss another deadline.
Remember the Milk
Price: Free, or $39.99 per year for Pro, from Google Play
Busy days can make it difficult for people to remember all the things they need to do. When you're focused on picking up your kids from after-school activities, it's easy to forget that you need to stop by the store to pick up milk for tomorrow's breakfast. The aptly named Remember the Milk is just what you need to get through the day without forgetting important tasks.
The free version of Remember the Milk is similar to Todoist. It lets you make a list of objectives so you can tick them off as you finish them. The benefit of Remember the Milk is that it can connect with multiple applications, including Gmail, Evernote, and Google Calendar. That gives you even more ways to keep up with your schedule.
Upgrading to the Pro version lets you:
Break tasks into smaller goals
Share lists with other people
Sort your tasks
Receive reminders through your smartphone
Upgrading also gives you priority support and early access to new features.
Pushbullet
Price: Free, or $39.99 per year for Pro, from Google Play
If you're like most people, you probably use several devices to communicate and work. You have a desktop computer at work, a tablet for when you're reading, and a smartphone for when you're on the go. Each device serves a purpose, but they don't always communicate with each other well. That makes it difficult to take work home with you so you can prepare for tomorrow's meeting.
Pushbullet connects all your devices so you can switch back and forth easily. This means that you can:
Type text messages on your computer keyboard
Get phone notifications on other screens
Chat with friends seamlessly
Automatically send files to other devices
Pushbullet Pro lets you send more files, gives you 100GB of storage space, and lets you send unlimited messages.
SwiftKey
Price: Free from Google Play
Using an Android phone keeps you connected throughout the day. Unfortunately, it's easy to make typos on the native keyboard. Adding SwiftKey to your smartphone makes it easier to type without making mistakes.
SwiftKey comes with several features that will help you save time. Instead of retyping misspelled words, you can count on the app to do it for you. Unlike many keyboard apps, SwiftKey learns by paying attention to common phrases and emoji that you use. That means it can predict words and correct spelling better than most keyboard apps.
It will even recognize up to three languages at once, which is perfect for multilingual people who don't want to change app settings while texting with colleagues and family members who use different languages.
Life is busy, and this isn't going to change any time soon. By adding the right apps to your Android device, you can take better control of tasks. Once you start using them, you might even find that you have some free time in your day.