The flag carrier of the United Kingdom, British Airways, also referred to as BA, is amongst the most preferred airlines in the world. Established in 1974, it has hubs at London Heathrow (LHR) and Gatwick (LGW) airports. It boasts a modern fleet of about 300 aircraft, including 777-300s, A380-800s, 747-400s, 787-9s, 777-200s and A320-200s. Its network is one of the biggest aspects that have played a role in its success. With its main hub at LHR, it offers air services to more than 175 destinations all over the world. Detailed information on this expansive network is given below.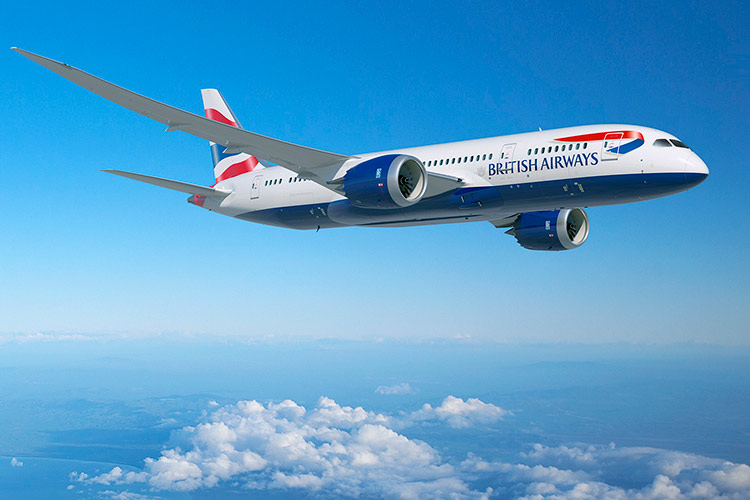 Europe
Since British Airways is a European air service provider, it operates a large number of flights within the continent. More than 30 countries are covered in its network, including Albania, Belgium, Austria, Bulgaria, Denmark, Estonia, Finland, Czech Republic, France, Greece, Hungary, Iceland, Germany and Italy. Latvia, Lithuania, Luxembourg, Russia, Malta, Norway, Portugal, Spain, Sweden, Switzerland and Ukraine are some other European countries included in its network. The carrier serves about 25 airports within the United Kingdom itself. Some of these are London Heathrow, London City, Manchester, Newcastle, Sumburgh, London Stansted, Gatwick and Barra.
Asia
With some of the most visited cities in the world, Asia is a major tourist destination and a large number of business as well as leisure travellers come here. Seeing the heavy air traffic to different destinations in Asia, the British airline has expanded its operations in the continent. Hong Kong, Indonesia, Singapore, Taiwan, Thailand, South Korea and Vietnam are a part of its network. Besides these, it offers services to Bahrain, China, Japan, Malaysia, Jordan, Kuwait, Nepal, UAE, Qatar and Oman. Within India, British Airways flights are operated to and from Bangalore, New Delhi, Chennai, Mumbai and Hyderabad.
Africa
Known for its biodiversity and primeval culture, Africa, the second largest continent in the world, is thronged by people for different reasons. Some African countries that are reached by the English air service provider are Algeria, Egypt, Angola, Botswana, Kenya, Ghana, Namibia, Nigeria and Tanzania. It operates flights to nine airports in South Africa, including Cape Town, George, Durban, Port Elizabeth and East London. Travellers can also make British Airways web check-in for avoid queues at airports.
Australasia
The country of Australia offers myriad business and adventure opportunities to people from across the world. The European carrier serves more than a dozen of its cities; Adelaide, Brisbane, Darwin, Melbourne, Perth and Sydney are some of these. Apart from these, flights by BA can also be booked to the Australian capital, Canberra. Along with the above-mentioned destinations, this renowned airline also reaches myriad destinations in New Zealand
The Americas
While Bermuda, Canada and Mexico are some nations in North America, hosting this carrier, Argentina, Chile, Brazil, Colombia, Uruguay, Venezuela and Costa Rica are some in the South. Besides, a booking with the British flag carrier can also be made for numerous Caribbean destinations like the Bahamas, Haiti and Barbados. The airline serves numerous cities in the USA like Los Angeles, San Francisco, New York (JFK and La Guardia), Newark, Chicago, Detroit, Dallas, Atlanta, Miami and Las Vegas
Being a member of the Oneworld alliance and having codeshare partnerships with other carriers, the flag carrier of the United Kingdom is able to provide services to many other destinations.