The food scene in the UK has never been so interesting. Not so long ago Brits were somewhat unadventurous when it came to Asian cuisine – but how things have changed. Indonesian, Japanese, and Vietnamese cuisine have quickly become popular among the UK population, which is not surprising when you consider the freshness and vibrancy offered by many such cuisines, especially Vietnamese cuisine.
Vietnamese food is also increasingly considered to be a superbly healthy option, thanks to its low fat content and abundance of fresh, deliciously prepared veggies and herbs.
Top Vietnamese Lunch Dishes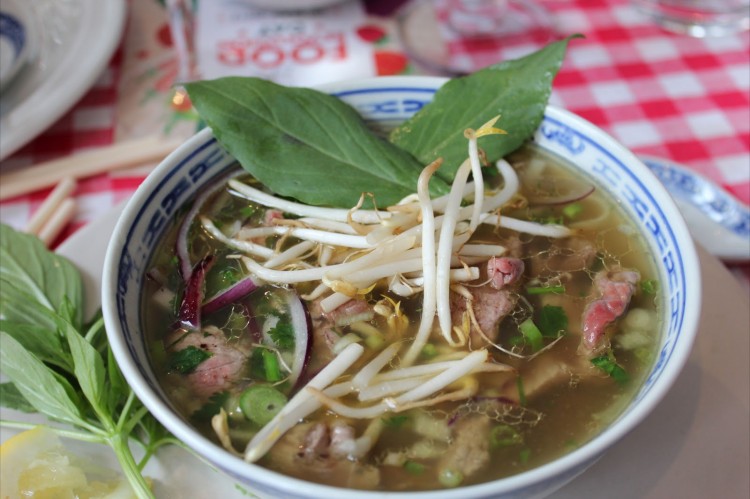 A fast rising star among Vietnamese food is the lunchtime baguette bursting with Vietnamese fillings. These are being snapped up all over the city from street vendors, fast food outlets, and authentic Vietnamese restaurants.
In a similar manner to Thai food, Vietnamese cuisine is a delicate balance of sweet and sour flavours, and hot and spicy, and relies heavily on chilli, ginger, garlic, lime and brown sugar for its distinctive flavours, with most dishes providing an intense and sharp taste experience.
Among the top sought-after Vietnamese dishes are:
Banh Mi – this is basically a Vietnamese sandwich (baguette) heralding from the days of the French colonization of Vietnam and represents an interesting fusion of East and West. Consisting of a crusty French baguette stuffed with meats, fresh herbs and spicy vegetables – it's a taste explosion just waiting to happen in your mouth.
Monkfish – this is typically caught off the Devon coast, on a daily basis, so it's beautifully fresh, and then grilled with dill, turmeric and galangal (looks like ginger but with a distinctive taste) for a mouthwateringly healthy dish.
Vietnamese Classics – try any of the classic noodle soups, stir-fried squid or summer rolls which are incredibly popular all over the city.
Pho – probably the most well-known among non-Vietnamese customers; Pho, is the national dish of Vietnam, and although originally a breakfast dish, it is consumed throughout the day by many. The stock used to create Pho can take hours to get just right; often following recipes handed down from generation to generation, giving each version a unique taste.
Superbly health and easy on the palate; if you haven't already tried Pho – you should, and soon.
Quick taste treats – if you're really in a rush, try a super quick lunch dish such as grilled pork mince or chargrilled quail, accompanied with fresh noodles for a superbly flavourful and brilliant taste treat.
Vietnamese rolls – another great lunchtime snack is a wrap (roll) stuffed with marinated pork belly crackling for a quick and easy, yet incredibly tasty, lunchtime pick-me-up.
Whether you try Vietnamese food from a street stall, fast food site or a great Vietnamese restaurant London offers, you'll be sure to want to go back and try some more. The taste adventure has just begun!